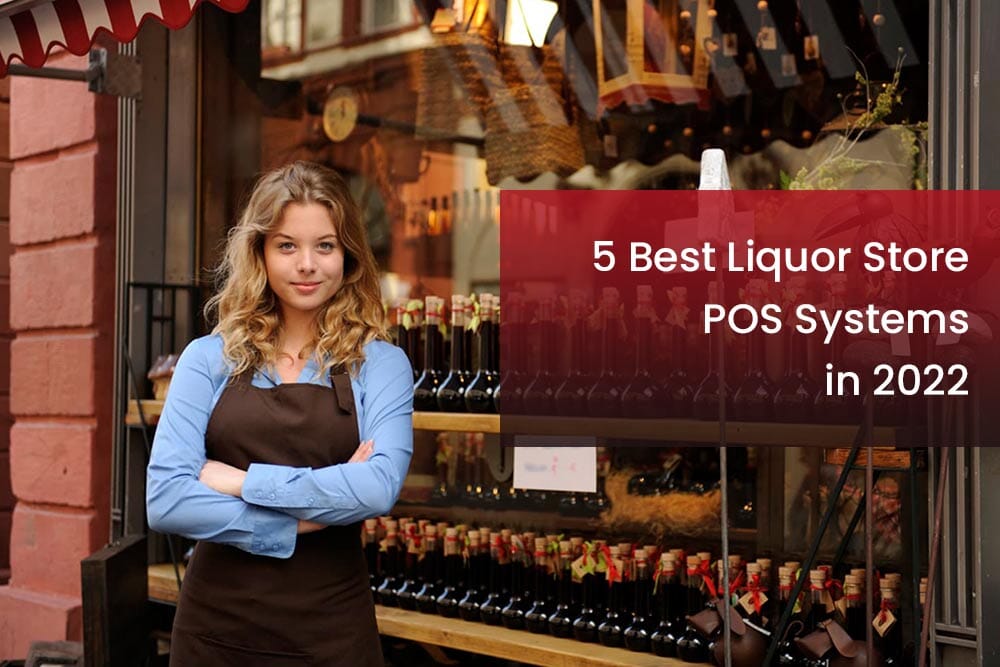 5 Best Liquor Store POS Systems in 2022
You're in for a dizzying array of choices when it comes to buying liquor POS systems. But what will be the best brands in 2022? We are so glad you asked! We've compiled our top picks for 2022, and we're going to tell you all about them.
The liquor store POS system is the bedrock of any convenience store pos. If you want to sell liquor at your store, you need a good liquor POS system that can process credit cards and save data to make your life easier. Superior liquor stores are always looking for new ways to drum up revenue. One way is by instituting a point-of-sale system that helps out customers by handling the most tedious and time-consuming tasks. A great way to entice new customers is by giving them a reason to spend more money, and one strategy is creating a retail POS system that can help sell drinks more efficiently.
The article will tell you which are the best liquor store POS systems in 2022 and what to look for when you're buying one.
Why choose the best POS system?
One of the most important business decisions that new convenience stores that want to sell alcohol must make is what type of point-of-sale (POS) software they should use. Liquor POS systems assist liquor store owners in selling more liquor both in-store and online, as well as providing important business management features. A good liquor store POS system will be simple to use, offer curbside and delivery options, inventory management features, and more.
Age verification for alcohol purchases is another industry-specific feature of liquor store POS systems. A liquor POS system can also allow you to set multiple sales tax rates for different types of alcohol and provide robust reporting features for compliance.
5 best POS systems for liquor stores
KORONA
KORONA uses existing hardware providing robust inventory tracking with vendor management, Case promotions, and case-break tools. We get several options for a payment processor. Though Inventory management tools are not available in the basic plan and native online store functionality is absent, KORONA still tops our list.
KORONA is extremely simple to set up. You sign up for a KORONA account and immediately gain access to a KORONA management dashboard. You can use a free demo version of the app to test all of the features and see if KORONA is a good fit for your liquor store. Users can also rely on KORONA to assist them in locating the best payment processing rates.
POS Nation
POS Nation can integrate with a variety of payment processors. Age verification is also easy here. We also find cash discount options and case-break inventory tracking. Except for the fact that there are limited e-commerce capabilities, the need to buy extra hardware and payment processing, and customer service restrictions in the subscription tiers, POS Nation still tops in the 5 best POS systems.
Many liquor store support tools, such as age verification prompts and barcode-scanned inventory counts, are included in POS Nation. POS Nation, like KORONA, integrates with several payment processors. Monthly users must use Worldpay. Other POS Nation users, on the other hand, have the option of using Worldpay, First American, Evo, Heartland, Priority I.S., or North American Bancard.
Harbortouch
Harbortouch comes with included hardware at affordable prices. It also includes an age verification system. Though it's one of the best retail POS systems, we shouldn't forget it is locked into Shift4 Payments and lacks liquor industry e-commerce integrations. A subscription is a long-term contract. It also lacks payroll integrations.
Harbortouch, like the majority of the other systems on this list, includes age verification prompts and comprehensive inventory tools with vendor management. Harbortouch also has slightly more robust payroll reporting than KORONA and POS Nation; users of Harbortouch can track overtime hours and export time clock records to an external payroll system.
Lightspeed Retail
Lightspeed Retail works well on iPads. It's also easy to self-install. The system has comprehensive inventory tools. The demerits are that it requires a strong internet connection. Subscription prices are at the higher end. Hardware is also priced on a customized basis.
Lightspeed Retail is the sleek, modern brother or sister to the older desktop computer POS systems on this list. The iPad-based point-of-sale system is mobile and adaptable. You can use the iPad POS in your shop to count inventory or show customers product images. The low-profile terminals make it simple for your employees to interact with customers, and the iPad interface is familiar to anyone who has used a smartphone.
Retailz POS
RetailzPOS has customizable touchscreens, security integration with remote eyes, age verification, and case-break inventory and pricing tools. But, on-site help for the system costs more. The system doesn't have any email marketing tools and not many liquor industry-specific integrations.
It includes all of the features required by a liquor store, such as inventory tracking with vendor management and low stock alerts, age verification, and case-break pricing. RetailzPOS, in addition to these features, runs on industry-grade hardware with customer-facing displays and countersunk pos barcode scanners to support high-volume store operations.
Bottom line
Choosing a liquor store POS system entails more than just having the tools to ring in sales at the lowest possible cost. Liquor store owners require inventory control and sales management tools that are unique to their industry. To successfully meet customer demands, liquor store owners must outsource their POS applications and implement a system capable of accurately managing inventory, sales, labor, and management while also connecting to payment processing systems. We hope this article has helped you decide on which is the best liquor store POS system.