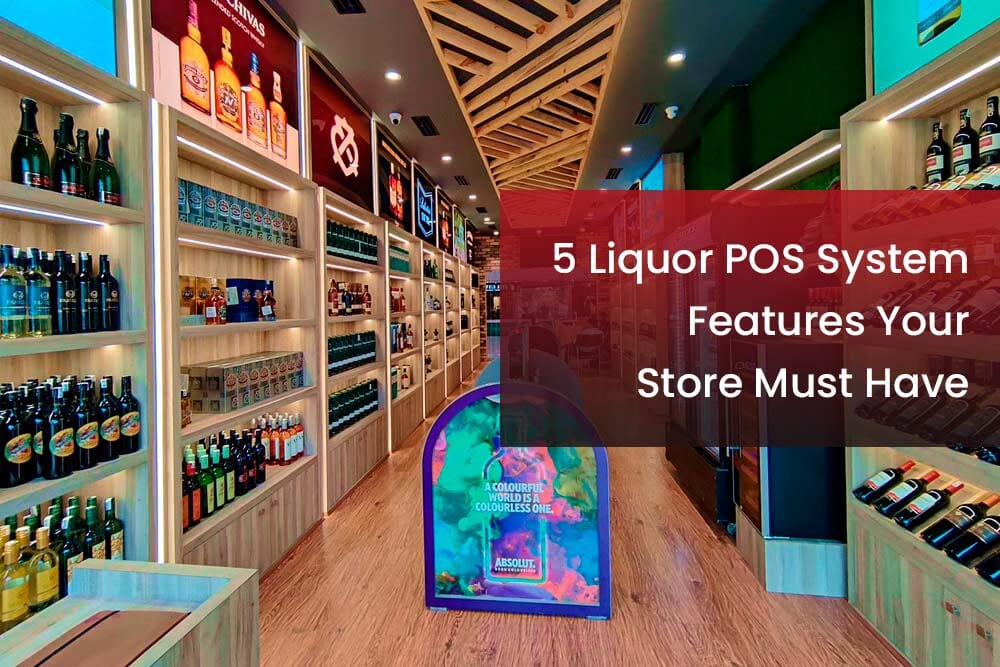 5 Liquor POS System Features Your Store Must Have
Ecommerce has had its fair share of growing pains as it transitions into a mainstream retail destination. Many brick-and-mortar retailers were caught off guard by the monumental shift in shoppers' purchase paths, and features that were formerly regarded as standard in most grocery stores' POS are barely being utilized today.
Several brick-and-mortar retailers have shuttered their doors in the past few years or found themselves forced to sell to stay afloat. This is due largely to competition from online retailers such as Amazon and Walmart. Consumers use their devices for nearly every facet of their shopping experience; bargain hunting, price comparison, and ultimately fulfillment of purchases.
Coming to the liquor industry, it's no different. Online sales have been soaring as more consumers shop from the comfort of their homes. Retail experts predict that online sales for liquor pos systems will be at about $21 billion by the end of 2023. That's roughly an additional 8 percent growth year over year.
But for all of its success, eCommerce has its drawbacks. First and foremost is security, followed closely by price transparency and delivery. Ecommerce retailers have little control over these variables (outside their websites) as they are out of their hands.
Hence, every liquor pos system owner wants a system that is easy to use, customer-friendly, and profitable.
A dependable Retail POS System simplifies business operations by allowing you to manage your sales, inventory, and employees effectively. Most importantly, it can assist you in providing a flawless customer experience that will keep them wanting to return. While POS systems benefit all businesses, they are especially beneficial to bars due to their fast-paced environment! A bar Point-of-Sale system is a computerized cash register that allows bar managers to track and control inventory and generate sales analysis reports. A POS system will make more efficient pricing decisions and reduce the risk of costly errors.
That's why, in today's blog, we'll go over 5 essential features of a bar POS system and why they're so important in this industry.
Liquor & Bar Inventory Management
Most high-quality POS systems include real-time inventory control software that shows you how much inventory you have on hand at any given time. These programs and APIs allow you to track your liquor inventory, suppliers, and prices independently. This makes it extremely simple to determine what to reorder and when. You won't have to spend hours updating a spreadsheet manually. Simply check your system to see if it has all the required inventory management features.
Payment Preauthorization
Payment pre-authorization lets bartenders securely swipe a customer's credit/debit card and save the details as their bar tab. The bartender can use this to determine whether the card is genuine and has enough funds to pay the bill. This is critical because credit card fraud is on the rise.
You can avoid the following problems by using a bar POS system that uses payment processing that allows pre-authorization of credit and debit cards:
Fake identification cards
Cards taken
Unpaid cheques
Order Customization
When you select a fully customizable and functional system, you will have a unique product that is crafted to your needs and completely original! The possibilities are endless. Your guests will love their unique experience. The bar POS system will be able to process orders quickly and efficiently. This means you won't have any delay while they wait. As a result, your guests will call back time and time again! No bar is the same, so why should your POS system be? Don't settle for anything less when you can create the perfect POS system that is uniquely yours.
Easy Menu Management
Selecting a POS system that allows you to effortlessly make changes to your menu in real-time from any location is critical. You'll need a system that can handle changes to your happy hour menu, seasonal menus, and regular inventory changes from week to week or day to day. We recommend paying attention to the details when looking for the best Retail POS system in Atlanta. Avoid POS systems that take more than 5 minutes to update menu items or require a reboot. Modern POS systems perform actions instantly and have interfaces that simplify changes.
Cloud Technology
You need a solution that can be accessed from any location at any time in our fast-paced world. Your POS system needs to be scalable as your company expands. If you're searching for this, a cloud-based POS system is what you require. The advantages of cloud-based POS systems are as follows:
inventory updated in real-time
Data can be retrieved from any device with ease.
Employees can easily access and amend their schedules.
By providing a range of payment methods, you can enhance client satisfaction.
Best Bar POS system providers
No merchant should let out time and energy on laborious activities that may be completed quickly on a POS system because managing a bar is not an easy undertaking. A solid POS system can work wonders for you to enhance customer satisfaction and simplify business management.
RetailzPOS provides the best POS systems and services for businesses like yours. Get in touch with us!