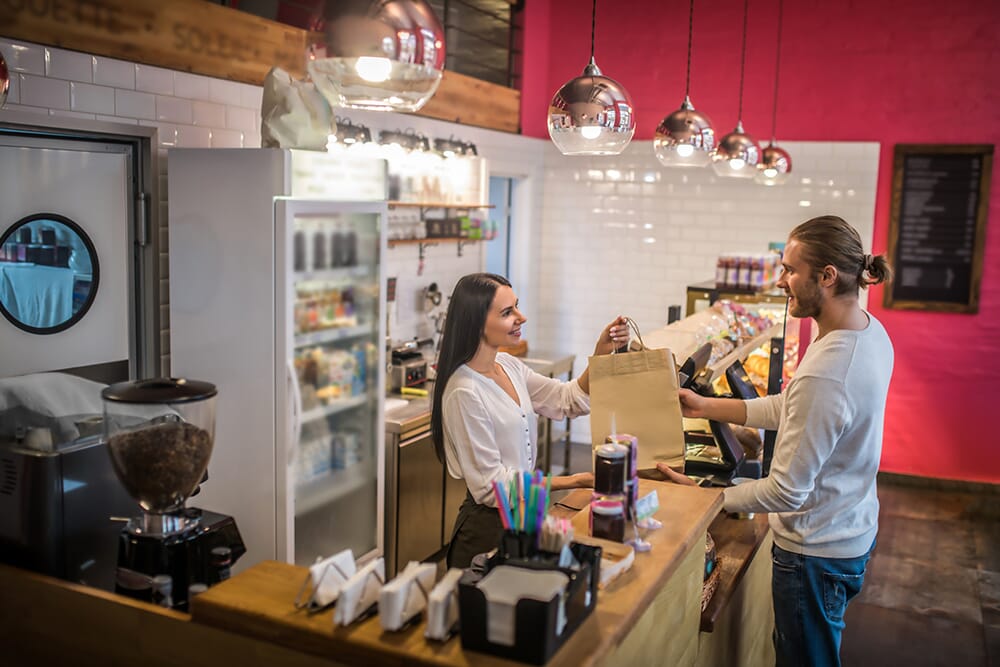 How a Convenience Store POS System Can Help Improve Customer Experience
In today's fast-paced world, convenience stores play a vital role in meeting the immediate needs of customers. To stay competitive, these stores must prioritize enhancing the customer experience. One effective way to achieve this is by leveraging a robust point-of-sale (POS) system.
In this blog, we will explore how a convenience store POS system can revolutionize the customer experience by enabling faster checkout times, personalized promotions and discounts, and accepting a variety of payment methods.

1. Faster Checkout Times
Long checkout queues can frustrate customers and diminish their shopping experience. A modern convenience store POS system can significantly reduce checkout times by streamlining the transaction process.
With features such as barcode scanning, automated pricing, and integrated payment processing, cashiers can swiftly scan items, retrieve prices, and complete transactions efficiently. The system also allows for quick entry of discount codes or loyalty rewards, minimizing time spent on manual calculations.
By expediting the checkout process, convenience stores can ensure that customers leave satisfied and return for future purchases.

2. Personalized Promotions and Discounts
POS systems offer the advantage of gathering valuable customer data, allowing convenience stores to personalize promotions and discounts based on individual preferences and purchase history.
By analyzing customer data, stores can create targeted marketing campaigns and offer tailored incentives to drive customer loyalty. For example, the system can automatically apply discounts on frequently purchased items or suggest relevant promotions based on previous buying patterns.
This personalized approach makes customers feel valued and appreciated, enhancing their overall shopping experience.

3. Acceptance of a Variety of Payment Methods
In today's digital era, customers expect the convenience of multiple payment options. A modern convenience store POS system supports various payment methods, including cash, credit cards, debit cards, mobile wallets, and contactless payments. By accommodating diverse payment preferences, stores eliminate barriers to purchase and enhance customer convenience.
Additionally, accepting mobile payment options like Apple Pay or Google Pay allows for faster and more secure transactions, providing customers with a seamless checkout experience.

4. Real-time Inventory Management
Nothing disappoints customers more than visiting a convenience store only to find their desired products out of stock. A POS system with real-time inventory management capabilities ensures that customers have access to accurate product availability information.
When an item is sold, the system updates the inventory in real time, reducing the likelihood of out-of-stock situations. With real-time inventory data, convenience stores can provide accurate information to customers, preventing frustration and allowing them to make informed purchase decisions.

5. Efficient Loyalty Programs
Loyalty programs are an effective way to retain customers and reward their loyalty. A convenience store POS system simplifies the implementation and management of loyalty programs.
Customers can easily enroll and accumulate points or rewards through their purchases. The system tracks their loyalty status, allowing stores to offer personalized rewards, exclusive discounts, or special perks. By integrating loyalty programs with the POS system, convenience stores can create a seamless and rewarding experience for their loyal customers.

6. Seamless Integration with E-commerce Platforms
In today's digital landscape, it is essential for convenience stores to extend their reach beyond the physical store. A modern POS system enables seamless integration with e-commerce platforms, allowing customers to shop online and choose convenient delivery or pickup options.
This integration ensures a consistent shopping experience across different channels and enables convenience stores to cater to the evolving preferences of tech-savvy customers. By offering an omnichannel experience, stores can improve customer satisfaction and capture a broader customer base.

7. Efficient Order Management
A convenience store POS system streamlines order management, enabling smooth and accurate processing of customer orders. Whether it's placing orders for pick-up or delivery, the system centralizes order information, automates order tracking, and facilitates efficient fulfillment.
By optimizing the order management process, convenience stores can fulfill orders promptly, provide accurate updates to customers, and minimize errors or delays. This level of efficiency elevates the customer experience and encourages repeat business.

8. Digital Receipts and Purchase History
A POS system can offer the option of digital receipts, which are sent directly to the customer's email or phone. This eliminates the need for paper receipts and provides a convenient way for customers to track their purchases.
Digital receipts also enable easy returns or exchanges, as customers can present the electronic receipt for proof of purchase. Additionally, the system can store customers' purchase history, allowing for personalized recommendations based on past purchases.

9. Real-time Sales Alerts
With a convenience store POS system, stores can quickly implement real-time promotions and sales alerts. Whether it's a limited-time offer or a flash sale, the system can automatically apply discounts or notify cashiers to inform customers.
This not only creates excitement and encourages impulse purchases but also ensures that customers are aware of the best deals available, enhancing their overall shopping experience. Eventually, with a comprehensive POS system in place, convenience stores can elevate customer satisfaction, drive sales, and foster long-term customer relationships.

Conclusion
A modern convenience store POS system offers numerous benefits that can significantly enhance the customer experience. From faster checkout times and personalized promotions to accepting a variety of payment methods and providing real-time inventory information, the POS system streamlines operations and ensures convenience for customers.
The integration with e-commerce platforms enables a seamless omnichannel experience, while efficient order management and digital receipts simplify the purchasing process. Real-time sales alerts keep customers informed about the best deals, and loyalty programs provide rewards and incentives for their continued patronage.
By implementing a comprehensive POS system, convenience stores can create a positive and memorable shopping experience, leading to customer satisfaction, loyalty, and business growth.
Upgrade to Retail POS software today and streamline your operations. From faster checkout times to personalized promotions, real-time inventory management, and seamless integration with e-commerce platforms, our POS software has got you covered.
Don't miss out on the opportunity to elevate your convenience store and drive customer satisfaction. Contact us now to schedule a demo and see how Retail POS software can revolutionize your business.