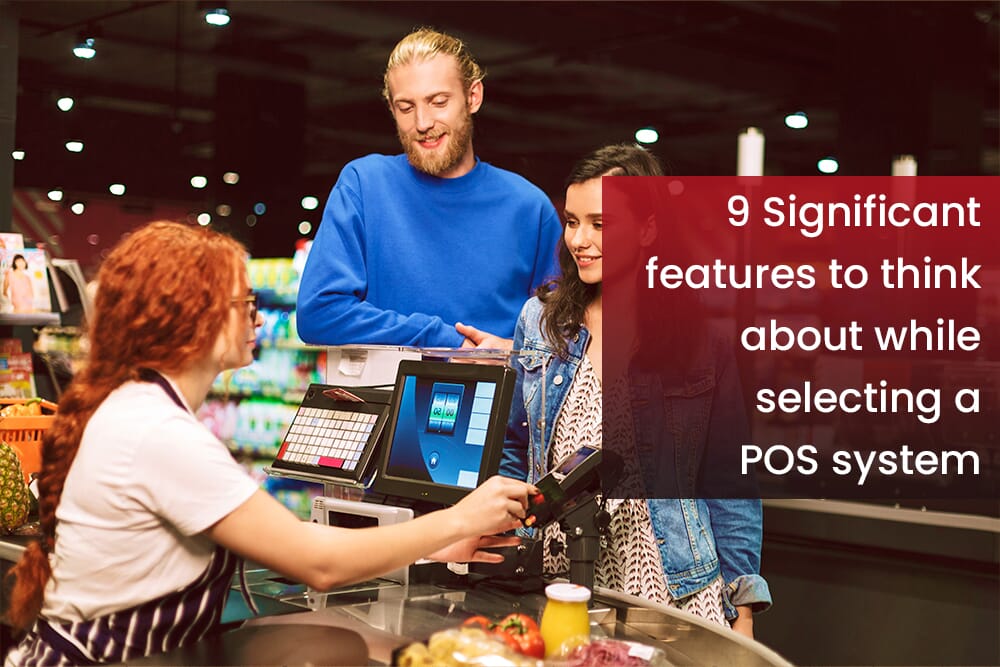 9 Significant features to think about while selecting a POS system
Choosing a POS system (point of sale) is an important decision for any business owner. There are many aspects to consider when making this decision, such as the size and needs of your company, your budget, and even the type of consumer goods or services you offer. In this blog post, we're going to cover some of the most important aspects to think about before selecting the Best POS system for your company. Hopefully, by the time you've finished reading this article, you'll have a better idea of what to look for in a POS system and whether or not it's right for your needs.

Aspects to Consider When Choosing A POS System
POS systems can be found in various forms, such as standalone units (attached to the countertop at your place of business) or online software as a service (SaaS), which can be used on your company website or via mobile device. In addition, there are many different types of software programs that fall under the category of POS. Some examples would be inventory management systems, order processing software, accounting packages, customer databases, and more). In this blog post, we'll talk about some of the most important aspects to think about when choosing a POS system for your company. We'll cover some of the most relevant features that you should take into consideration, such as:
1. Size and Needs Of Your Company
The first and most obvious aspect to consider is the size of your company and what kind of POS system would work best for you. You may be looking for a POS system that can handle the needs of an entire retail store or a few small retail stores with low sales volumes. On the other hand, you might be looking for a POS system that can handle the needs of a restaurant or a large chain with hundreds of retail outlets.
2. Your Budget
If your company is large and has many branches, or thousands of customers come through your store every day, then you can't afford to skimp on quality. You won't want to try and cut corners by buying a cheap POS system that doesn't have all the features that you need. Instead, you'll want to spend more money and get something more advanced that will allow you to efficiently track and manage inventory across multiple locations (if needed) while still providing an end-user experience unmatched by smaller systems.
Most of the time, you want to get the most bang for your buck, so you need to balance the price with the functionalities you'll need.
3. The Features You Need
POS systems vary greatly in terms of features and functionalities that they offer. Some will integrate with your customer database, while others will automatically run reports on inventory or sales patterns throughout the day. Still, others come with mobile applications to better help your employees manage their tasks while on the go. Some POS systems also include inventory management tools where you can more easily track how much inventory is left in a particular location (i.e., store or restaurant) at any given time.
4. Mobile Applications
As you'd know, it's becoming more and more difficult for your employees to keep up with their tasks by monitoring their customer's needs and ordering additional inventory when necessary. If you're a company that sells to the public, you want to rely on something other than your receptionist or staff member working in the front office every day since they often get errors or forget some important details. Instead, you'll want a POS system that comes with a mobile application where your employees can order any new items right from the app without having to go through the hassle of filling out paperwork on paper.
5. Great Customer Support
Many POS systems offer great customer support through email and phone. If you have any questions, concerns, or technical issues to address, they will usually be able to help.
6. Cost
You may find some free POS systems online by doing a quick Google search, but you may soon discover that they're outdated and not as good as the premium options available on the market right now. Free software is often riddled with bugs and security holes, making your company's data vulnerable to hackers. Instead, you'll want to buy something reliable and secure that will do an even better job of managing your inventory or tracking your customers' orders.
7. What You'll Have To Spend
Remember to factor in ongoing costs, such as the margin you'll have to pay on all of your transactions and any monthly fees associated with your POS system. You should also include training costs for your employees and any expenses you may encounter when upgrading or troubleshooting your system.

8. The Ease of Use Vs The Complexity
The level of complexity should be relative to the size of your company and how many employees you'd need to get it up and running on the backend.
9. to have a cloud-based POS system
You may need a system that integrates seamlessly with your company's existing customer database. You can also hire a POS consultant to help your business run as smoothly as possible.
A private company that sells products directly from its warehouse and stores them at different locations around the city (similar to a traditional retail store) should not need a cloud-based POS system since it isn't necessary for them to keep track of inventory in all of the different locations. Their inventory is stored in a single warehouse, so the POS system isn't needed to manage inventory. If a cloud-based POS system fits your needs, then you should consider getting one.

Conclusion
Numerous advantages come with selecting the best POS software for modernizing organizations. With the factors mentioned above in mind, you may choose the point-of-sale system that best suits your requirements to achieve your company objectives. Choose a POS that is simple to use, appropriate for your industry, has the functionality you need, and is reasonably priced.